Respect Life Ministry
The Respect Life Ministry (RLM) supports a culture of life through education, public policy, pastoral care, prayer and almsgiving.
Welcome!
The Respect Life Ministry at St. Edna "proclaims that human life is a precious gift from God; that each person who receives this gift has responsibilities toward God, self and others; and that society, through its laws and social institutions, must protect and nurture human life at every stage of its existence."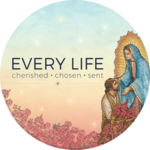 United States of Catholic Conference of Bishops
promote Respect Life with a new theme
each year, this year October 7, 2018 
"You are my messenger in you I place  my absolute trust"  
Our Lady of Guadelope
The essence of our identity is that we are created in God's image and likeness and loved by Him. Nothing can diminish the priceless worth of any human life. Every person is cherished.
God creates every person for eternal union with Himself and continually invites us to embrace a loving relationship with Him. Every person is chosen.
We are called to be messengers of God's love, treating one another as cherished and chosen by Him. In doing so, we help build a culture that respects all human life. Every person is sent.
Like St. Juan Diego, let us embrace our daily mission to help others encounter God's transforming, life-giving love.
Reprinted [Excerpted] from Respect Life Program, copyright © 2018, USCCB, Washington, D.C. All rights reserved.
EXPECTANT PARENT BLESSING SUNDAY, OCTOBER 6, 2019
 9:30 MASS
The USCCB Secretariat of Pro Life activities calls attention
to numerous human life issues highlighted in liturgies
at St. Edna, through the Archdiocese of Chicago 
Respect Life office and special events.
Please explore this web site to find out more about the Respect Life Ministry at St. Edna Church, our mission, the issues we are concerned about, and to link to additional information.  We welcome your comments and your support, so please contact us if you would like to learn more about the Ministry.
Our Mission
To promote within our Church Community a culture where every human being is valued and protected at the beginning and end of their human life.  We seek to create awareness of the life affirming positions of the Roman Catholic Church regarding these most vulnerable moments in life.  Ministry activities will respectfully promote education over protest, empathy over indifference, and unity over division.
Thank You
A special heart-felt Thank You to the Women of St. Edna for their generous donation and continued support of
St. Edna's Respect Life Ministry. Your support for Life is appreciated
.
 
About Us
Many important Human Concerns Ministries are in place to serve people during moments in life when poverty, illness, or unjust treatment exists.  The Respect Life Ministry is different in that it is concerned, specifically, with those moments when, for the convenience or preference of another, God's gift of Life is prevented from being created, or is deliberately destroyed.
The Catholic Church has specific opinions on these issues which we respect and support.  Our goal, as Catholics, is to create awareness and educate others of the Church's positions on Life issues.
The goals of the Ministry can only be achieved via methods which will be peaceful, cooperative, and consistent with Christ's message that we love one another.  Our approach to this important work will promote:
Education over protest - It is our belief that by sharing the wisdom of the Catholic Faith we will be successful at converting hearts and minds on all life issues.
Empathy over indifference - We will not be indifferent to other viewpoints but will offer an  understanding ear and an open mind to enable meaningful dialog around sensitive life issues.
Unity over division - Through education and dialog, we hope to create a welcoming environment where all points of view can be shared.  Finding common ground among our fellow parisoners will be difficult, but far more meaningful and rewarding, than pointing out obvious differences in opinion.
UPCOMING EVENTS
Illlinois Legislation needs your VOICE NOW!!!
  www.ilga.gov 
  Info. to call or fax your
  state Representative or Senator
  www.ilcatholic.org
 WOMEN'S CENTER
 BABY BOTTLE CAMPAIGN
 Bring baby bottles to parish office
Monday-Saturday, 8:30 a.m.to 7:00 p.m.